Khamisi Benford likes a lot of things about his longtime home of Warrendale. But what him and other residents of the neighborhood talk about the most is its diversity.
"I have a Mexican family on my left, an Iraqi family on my right, and a couple houses down is a white family," Benford says. "People are a lot more tolerant here because of that. Especially if you grew up here, tolerance is just understood. I think that's been a benefit to my children, too."
The neighborhood, which borders Dearborn and is part of the larger Cody Rouge community, is one of the most diverse in the city. Its population is 34 percent white, 31 percent black, and the final third a combination of Arab, Asian, and Hispanic.
The neighborhood's diversity may be due to the fact that it wasn't always a part of Detroit. Established early in the 1940s, The Village of Warrendale was its own city until the early 1900s when it became a part of Detroit to take advantage of its water system. But Warrendale didn't just take from the city, it brought with it a rich community with residents who have been there for generations.
Benford, a graphic designer by day for the Detroit Public Library, is a graduate of College for Creative Studies and an entrepreneur. He owns BlackFokApparel—an apparel company that is inspired by the sights and sounds of the city of Detroit.
But him and his wife are packing up their home to move out of Warrendale, having built a home in Redford. The lack of amenities available in local schools were a major factor in their decision, but they still have faith and pride in the strength and stability of Warrendale. "We listed our house and six days later it was sold. There is a young Arab family moving in," Benford says. "They are currently renting and wanted to buy. So, this is their starter home now."
Stability is one of Warrendale's strengths. Not only have many of the residents been there for a while, but so have the businesses — Warrendale is known for neighborhood bars that have been around for years. On Warren Avenue, the Last Call bar has been open since 1944 and the Hurry Inn Sports Bar since 1919. Both are owned by Dennis and Gloria Willis. Gloria was born and raised in Warrendale.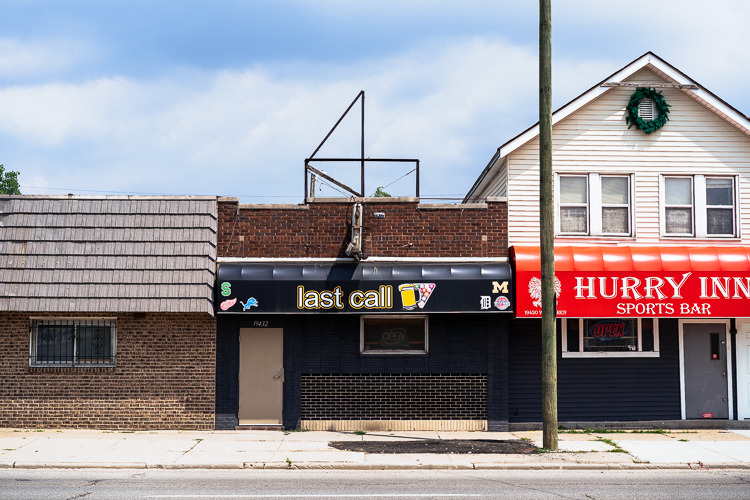 Last Call and Hurry Inn bars
For Barb Matney, living in Warrendale means a sense of community and pride. As the president of the Warrendale Community Organization, Matney and her husband Joe started their journey in local community service first as concerned citizens.
Matney has lived in Warrendale all her life. She attended neighborhood schools and is a graduate of Cody High School, which is where she met Joe. Together, they stayed in their home neighborhood and raised two sons. Even as the neighborhood evolved, the Matney family remained.
"Over the years, we have always worked with our neighbors to try to maintain a safe and clean community," Matney says. "Things changed very quickly, and some families moved away seeking a better place to raise their families. We knew it wouldn't be easy, but Warrendale is our home and this is where we belong.
"Joe and I have never lost hope that the community can again be a safe, clean, and vibrant place to live."
Joe Matney can often be seen in the neighborhood carrying his five-gallon bucket picking up trash. In 2016, he and Barb purchased two vacant lots behind their home. They applied for and received non-profit status, signed up for the Urban Roots training program, started applying for grants, and broke ground on the In Memory Of… Community Garden.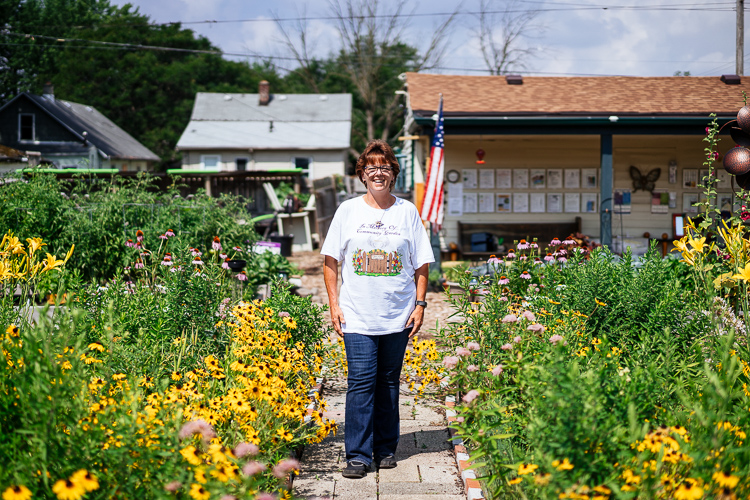 Barb Matney in her community garden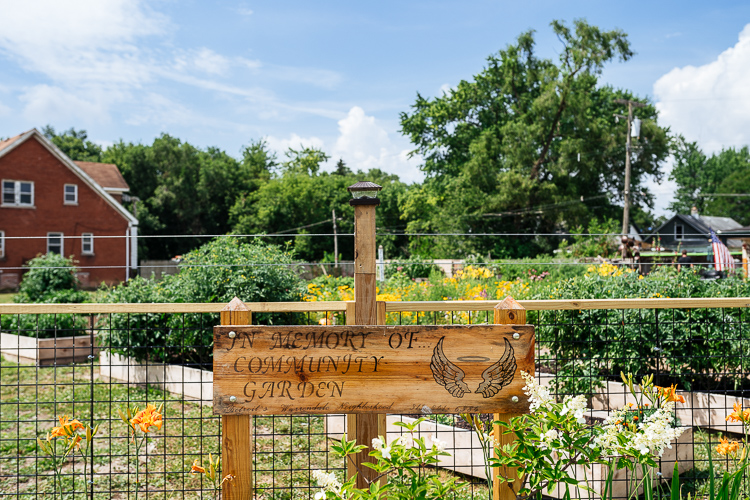 Sign outside In Memory Of… Community Garden
The garden has two commercial mowers, allowing residents to cut the grass of abandoned properties in Warrendale, along with the renovation of a safe green space. The moment they found out that they had won the "Our Winning Green Space" contest through Project Evergreen, they started the process of purchasing two more vacant lots across from the garden to put in a pocket park for children and families in the neighborhood.
And in yet another purchased lot, they planted an orchard. In Memory Of… Community Garden recently won a $10,000 grant from Keep Detroit Beautiful and Lowe's to build a greenhouse. There are also plans to add a veterans flower garden for people to sit an reflect on military veterans who have passed. Matney lost a cousin on 9/11 and has family in the military.
State Representative Sylvia Santana stopped by while out campaigning for a State Senate seat. "This is a beautiful vision. Kids love this garden. It's a gem in the community," she said.
All the vegetables harvested at In Memory Of… are available to the neighborhood, either after volunteer hours or by donation.
"Before this garden, when this was abandoned homes, there was so much crime," Matney recalls. "But now, that has dropped dramatically. People are opening their blinds more, coming outside, going for walks. Kids love to ride their bikes by this corner. Everyone just feels safer."
This article is part of "Voices of Cody Rouge," a series that showcases the authentic stories of residents, community stakeholders, and local organizations helping to create and shape positive transformation in the Cody Rouge neighborhood of Detroit. This series is made possible with support from Quicken Loans, IFF, and the Cody Rouge Community Action Alliance. 
Story by Biba Adams
Photos by Nick Hagen
Read the original story: Model D