For as long as he can remember, Ali Dirul has been interested in science and computers. "It's something that's always been in my nature," he says.
But that affinity alone wouldn't have caused him to start Ryter Cooperative Industries (RCI). That decision had as much to do with his belief that communities have the capacity to build a cleaner, healthier, more empowering future through technology — RCI is just there to help.
"We're looking to change the framework of how communities deal [with energy] in this current economy," says Dirul, founder and executive director of RCI. "And look towards shifting and growing this towards a newer type of sustainable economy."
Founded in 2015, the Detroit area project management company specializes in energy-oriented engineering solutions with a particular focus on solar power. It takes special pride in finding ways to make those resources useful and accessible to community residents and organizations.
For its most recent project, completed May 11, RCI installed a state-of-the-art solar smart pole at the Parker Village community resource center in Highland Park. The innovative device provides light, Wi-Fi, LED signage, and on-site security to the area around the community center. It's the first of a series of smart poles RCI wants to bring to Detroit and Highland Park.
Grassroots beginnings
As the company's name suggests, Ryter Cooperative depends on the cooperation of many different people to get its work done. But the heart of it has always been Dirul. The 32-year-old, who grew up on Detroit's West Side, is one of those folks who felt the pull of of technology early on.
Homeschooled by his mother until the fifth grade, he rounded out his early education at two Detroit African-centered schools, Nsoroma Institute and  Aisha Shule/W.E.B. DuBois Preparatory Academy, where he received mentoring from folks like activist and educator Malik Yakini and former Detroit City Council Member Kwame Kenyatta. From there, he went on to study mechanical engineering and physics at the University of Detroit-Mercy — an education that included co-op jobs in the automotive industry working with Daimler and Detroit Diesel — and later earned a master's degree in mechanical engineering and alternative energy systems from Oakland University in Rochester.
During his time at Oakland, the seed that became RCI began to grow. First, Dirul helped conduct a study assessing net-zero energy homes, which piqued his interest in applying the technology to Detroit neighborhoods. Then he was contacted by D-Town Farm, a seven-acre organic farm located at Detroit's Rouge Park, to help with a project that was tailor-made for his skillset.
D-Town, which operates under the direction of his former school mentor Yakini, needed his help building a solar-powered charging station that could be used to power up phones, walkie-talkies, power tools and other devices used on the grounds of the farm.
Eventually Dirul put together a team assembled from the the extended family of people around D-Town Farm and together they started assembling a power plant out of a 40-foot shipping container, 10 donated solar panels, and an assortment of recycled parts.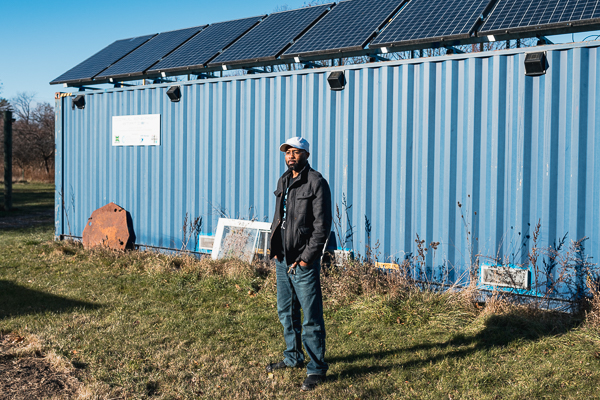 Dirul in front of a shipping container fitted with solar panels
"We had engineers on the team that were basically donating their time to inspect batteries, come up with designs for racking and figure out how to get things connected to the container," says Dirul. "We really wanted to showcase how renewable energy could be used in a practical type of way, to demystify it, so people could see that there's literally a power station on this farm that wasn't there before."
Completed with some assistance from DTE in 2015, the three-kilowatt station, known as Dirul Energy Station, is Detroit's first fully off-grid solar power generation plant. Since setting up the station, RCI has also implemented solar technology throughout the farm and several substations for farm workers to recharge electrical devices.
The work at D-Town served as a galvanizing force for Dirul. With a team in place, he saw the potential of what they could do together and incorporated RCI in January 2015. Inspired by the power of writing to bring ideas into reality, he dubbed the new enterprise Ryter Cooperative Industries.
The worker-owned low-profit LLC now consists of a core group of around a dozen people with talents ranging from engineering to information technologies, some working full-time and others part-time. Their efforts are complemented by an outer circle of skilled individuals that help out with projects and an even wider network of people the company draws upon for expertise and assistance.
RCI's COO Karanja Famoudou, who's been with the company since the beginning, oversees its installation projects. He praises Dirul's forward-thinking stewardship of the organization.
"I'm thankful that we were able to connect," says Famadou. "He's a great leader, very visionary. And he's dedicated and developed himself to achieving the things he wants to see for the community."
A bright future
As for RCI's work, Famoudou describes its mission as "bringing power to the people."
"Our efforts are really built around educating our community, bringing back some sovereignty in terms of power, employing people in the community, and developing skills that allow people access to the resources they need."
Over the last few years, the company has been involved in a bunch of intriguing projects. It's built solar charging kiosks for the African World Festival, which was held at the Charles H. Wright Museum of African American History. It's educated Detroit public school students about renewable energy. And it's partnered with the energy democracy group Soulardarity on several initiatives, including installing solar and solar smart lights in Highland Park, creating a solar-powered lawn mower for community residents, and establishing the solar bulk buying program Power Up to give residents inexpensive access to solar equipment for alley and security lighting.
Story by David Sands
Photos by Nick Hagen
Read the original story: Model D