On a sweltering day in late June this year, a park and garden in northeast Detroit was buzzing with activity. Residents of Yorkshire Woods, a tiny neighborhood near I-94 and Whittier Avenue, gathered for a barbecue and to enjoy the fruits of their labor.
The lots on which the residents gathered once had decaying houses and litter. Today, there's a little farm, 4 Angels Community Garden, with raised beds, a stage, and dozens of painted tree stumps for stools. A rain garden is halfway completed, with plans for more green space across Kensington Street.
Also on that hot day, volunteers with Elite Detroit were preparing a fence on one side of the garden for a mural. Police officers from the local precinct stopped by to listen to the music and converse with residents.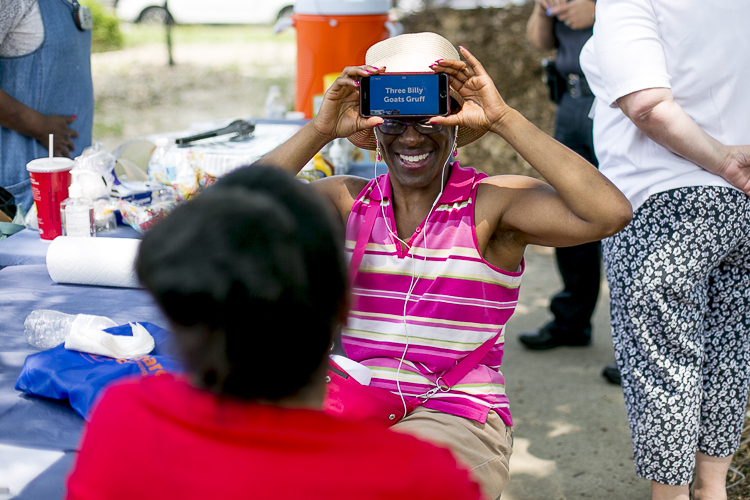 Residents play charades at a community cookout
This kind of community gathering has not been uncommon to the area in recent years. That's thanks largely to Mose Primus, president of the Yorkshire Woods Community Organization. A tireless advocate for his little community, he's evidence that dogged efforts at a grassroots level can work little wonders of revitalization.
Challenging years
Yorkshire Woods' story is similar to many other Detroit neighborhoods. At one time dense and filled with middle-class families, years of steady population loss followed by the housing crash, recession, and tax foreclosure crisis devastated the neighborhood. Vacant houses and lots dot every block.
Barbara Alexander Jones has lived in the neighborhood for over 30 years and watched the entire saga unfold. A retired Detroit Public School teacher, she remembers when Yorkshire Woods was a vibrant community. She also remembers when her neighbors, who bought their house five years before she did, lost it because they couldn't pay their mortgage.
But lately there have been signs of hope again. Why? "Mose Primus," Jones says. "When he's in something, he gives it 110 percent. He doesn't know when he gets tired.
"He's just such a go-getter," she adds. "Everywhere he goes he talks about Yorkshire Woods and what we need."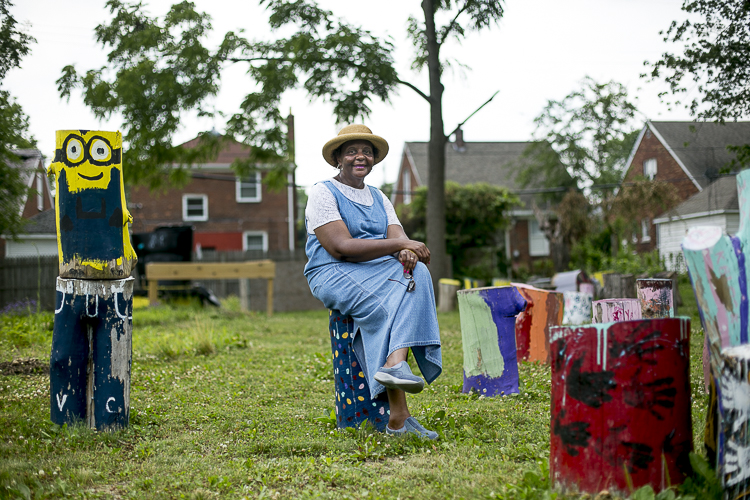 Barbara Alexander Jones
Primus has deep roots in Detroit. His father was the first African-American butcher in Eastern Market, and Primus worked for him for 27 years.
The Yorkshire Woods Community Organization (YWCO) predates Primus (it was founded in 1975), but by the time he moved there almost 20 years ago, it wasn't doing much effective work. "They went through several presidents and board member changes," Primus says. "Essentially, it had become a place to come and vent."
Jones says that was due in part to the general feeling of despair in the community, especially by the time the recession hit. "Everyone got discouraged because we couldn't get people to participate."
Primus became president of the YWCO in 2014 — and he doesn't really get discouraged.
Story by Aaron Mondry
Photos by Anthony Lanzilote
Read the original story: Model D