A few years ago, Highland Park resident Shamayim Harris would often look at the block of Avalon Street just west of Woodward Avenue and feel disheartened. It was "terribly blighted, decaying," recalls Harris, known around the community as Mama Shu, adding that most of the houses were abandoned, with debris littered throughout the block.
Then her toddler son, Jakobi, was killed in a hit-and-run incident.
Six months later, she saw that a house on the block, one she had looked at for so long, was for sale. "There was just something about the block that was really drawing me to it," she says. "To me it felt like a clean slate. It felt like a fertile ground that I can actually go over and clean up and we can put things on it that our city doesn't have anymore."
She inquired about the house and cobbled together $3,000 through fundraisers and a friend to purchase it, paving the way for what would eventually become a much more ambitious project: Avalon Village, a sustainable, multi-block eco-development
That first house will become the Homework House, featuring computer and STEM labs, a recording studio, and space for kids to study, learn, and get healthy meals. Then she built a park over three blighted blocks in her son's name, calling it Jakobi Ra Park. Eventually, the holistic village will be comprised of a marketplace, wellness center, greenhouse, and more.
Her vision is to have all the services necessary for a small city on one block while also being eco-conscious and sustainable by incorporating geothermal heating and cooling.
"That's the way this village has to run because it's more affordable," Harris says. "We don't have a lot of resources to pay for gas, lights, and water, which are getting cut off around here. My thing is, let's think of something else that works. We can use natural resources, and they don't cost anything. We can use those as much as possible and then the rest of the funds can go towards programming and projects."
Mama Shu isn't waiting for city officials to come to rescue her neighborhood. And she's not alone. Whether it's offering a safe space for children to do their homework, lighting up the city that had its lights repossessed, or creating economic engines that will spur development, some residents of Highland Park are coming up with innovative solutions to their community's problems.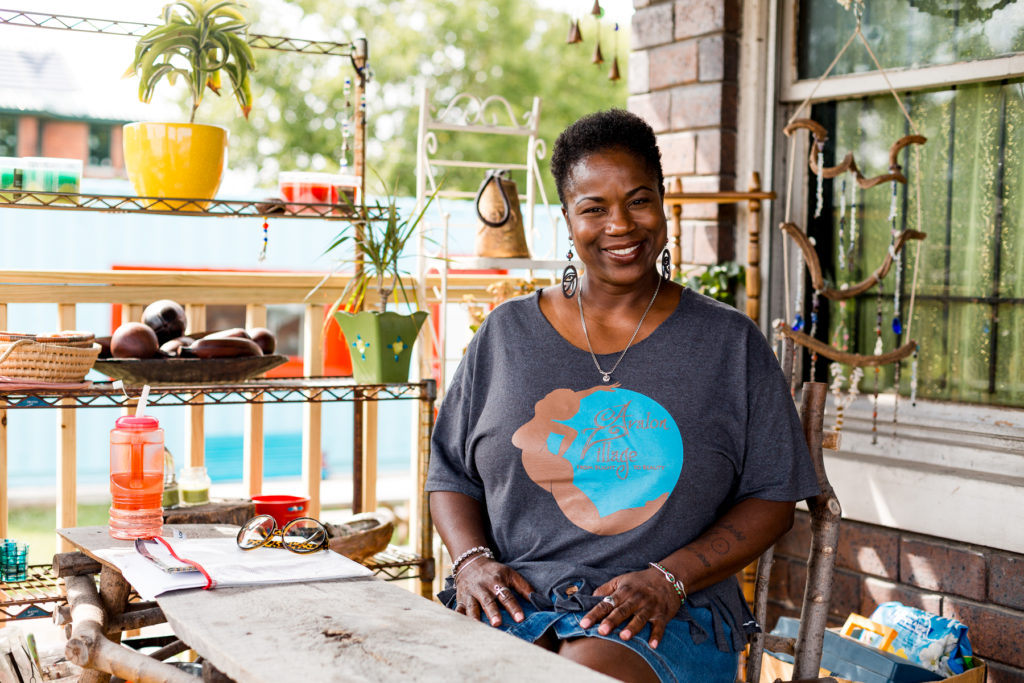 More than a cafe
Most of Highland Park's solutions-focused community can trace its roots to Nandi's Knowledge Café, a cozy and homey cafe brimming with books on pan-African culture, and dishing up comfort foods such as sandwiches, wings, fries, and homemade peach cobbler. Over the years, owner Lucy Frye, better known in the community as Nandi, has added a vintage store and art gallery.
But the cafe is more than a place to eat and browse books. "It's a meeting place," Frye says, adding that with the space she is "building a village."
"I just wanted a place where people can come, they can eat, they can drink, they can relax, they can buy things—have a whole shopping experience with books, vintage clothes, art."
It's even more than that to the residents leading these community-driven projects.
"Nandi has worked really hard [to foster that environment]," says Jackson Koeppel, executive director of membership-based nonprofit Soulardarity, which installs solar-powered street lights. The organization was formed after Highland Park's 1,000-plus lights were repossessed to shore up municipal debt. When he needed a mailing address to incorporate his nonprofit, Nandi offered hers.
"I see the outcome of her effort to make this a space for people to educate themselves, educate others to grow positive things together," Koeppel says. "I've come in here to get a cup of coffee and left with a new partnership or ran into a city councilperson I needed to talk to. … She's really cultivated the cafe into a space to meet people to collaborate, to build things together."
Collaboration lights up the city
Koeppel came to the area as part of a green economy leadership training program. He had only intended to stay temporarily, but after meeting leaders such as Frye, Margaret Lewis, who published a community newspaper, and Mama Shu, Koeppel found himself staying to continue building in Highland Park.
"When Jackson and I first met, I believed he was striving to seek solutions for the city of Highland Park, which is something that I was already in the process of doing," says Harris, who has had meetings with Koeppel at Nandi's and chaired sessions of the Highland Park Charter Commission at the cafe. "I'm all about solutions. We share a love for the city and a common interest in revitalizing Highland Park.
"Plus, his mom asked me to watch out for him and I promised her that I would. So, I guess you could say that he is also like a son to me."
Avalon Village was the recipient of one of Soulardarity's first residential solar-powered streetlights.
"The impact that the solar streetlight has had on the community has been wonderful," Harris says. "The residents feel safer and they look forward to and are excited about future solar street lights being placed around the city. I think that the Highland Park community is beginning to feel that there is finally light at end of the tunnel."
Since forming in 2012, Soulardarity has installed several solar-powered streetlights. Nandi's Knowledge Café and residents also received lights earlier this year.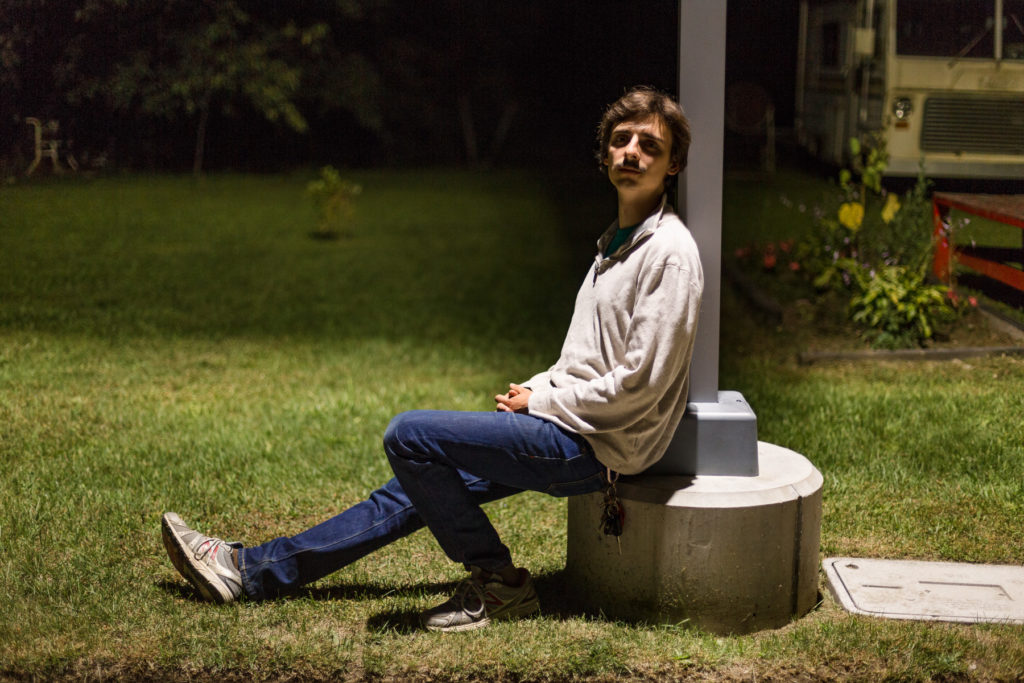 Soulardarity is working on a full block pilot project to demonstrate what an integrated system of the lighting system would look like. Last year the nonprofit proposed to city officials its "Let There Be Light" plan, which calls for the installation of 1,000 solar streetlights to fully relight the city.
Based on a 15-year lifespan, Koeppel estimates that solar lighting would save the city $3 million. It's key to have this infrastructure controlled by the community, says Koeppel, "so we're not seeing costs skyrocket at any point or having it all get repossessed because of debt."
In partnership with community-based engineering company Ryter Cooperative Industries, Soulardarity also offers a bulk purchasing program called Power Up, harnessing the power of collective purchasing to reduce the price and make solar technology more accessible. Through the Power Up program last year, 50 battery-powered solar lights were purchased, with 20 of the lights in Highland Park, 20 in the North End neighborhood of Detroit, and the rest in outlying neighborhoods, expanding Soulardarity's reach.
"We're collaborating with Detroit-based organizations and block clubs to expand the scope of bulk purchases," Koeppel says. This year, Soulardarity is offering new solar lighting options, generators, and phone chargers, as well as a loan program.
Soulardarity is also exploring a partnership with Parker Village, a redevelopment project in the former Thompson Elementary School at East Buena Vista and Brush streets on the city's east side, and spearheaded by Juan Shannon, CEO of Modern Tribe Communications.
Parker Village focuses on renewable energy, technology, media, aquaculture, and urban gardening. "As a social enterprise, we hope to be not only a tech hub, but to do so in an environmentally sustainable way," says Shannon. To do so, they are seeking platinum LEED certification, the highest level.
The project will unfold in two phases. The first entails construction of the aquaponics garden and Garden Café—fruits, vegetables, and fish will all be grown and raised without chemicals. Shannon is aiming for a soft opening in September. The second phase will be to redevelop another school building into a coworking space and STEAM Lab.
Parker Village has some powerful organizational support from Soulardarity, OHM Advisers, Newman Consulting, Grass Roots Environmental, Dickinson Wright, Berkshire Hathaway, Revitalize Charging Systems, Tesla, and Varnum Associates. "That wealth of knowledge and technology alone has been an eye-opening experience in our development," Shannon says.
The lifelong Highland Parker couldn't have done Parker Village anywhere else. "It's the pride in Highland Park and the love for the citizens that deserve to not let the legacy of this beautiful historic place be destroyed or forgotten," says Shannon. "It deserves a shot in the arm to revitalize it."
Harris, too, hopes all the building in the community will spur others to take action.
"The city was once so beautiful, and I feel like it can be beautiful again," she says. "I believe that if people just honor their space more, and cared and became more hopeful and able to see something make a difference and see that something can come out of blight and something can come out of decaying, I believe they can become inspired."
Story by Dorothy Hernandez
Photos by Nick Hagen
Read the original story: Model D